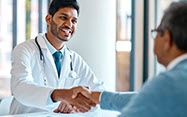 In your excitement to sell your practice, it can be easy to underestimate the strength of the bond many patients and office team members feel toward you. By taking steps to reassure them — well before your departure — you can help preserve goodwill. That, in turn, can help ensure the ongoing success of your practice as it shifts ownership.
Make sure staff hear the news from you
When you decide to begin seeking a buyer for your practice, sit down with staff to explain what's happening and express your appreciation for them. Answer any questions they may have and, if you can't, take note of their concerns and get back to them.
Then, two to three months before the practice changes hands (or as soon as you can once the paperwork is signed), mail or email an announcement to your patients, too. Assure them that you will be working to help the new owner continue delivering quality care to them and any loved ones who also visit your practice. 
Introduce the staff to the buyer
As soon as you know who your buyer will be, introduce all staff members to the buying practitioner to help them feel comfortable and confident that they are valued members of the transition team. Try to keep existing staff members on board throughout the transition period, as they are vital links to the success of the transition and retention of current patients.
Plan a "meet and greet" for patients
If it's safe and feasible to do so, consider inviting patients to a planned event at your practice, where you will introduce them to the buying practitioner before they come on board. The face-to-face interaction may help patients and staff feel more relaxed with the new doctor and may help assure them that they will continue to be in good hands.
Distance yourself from money talk
To maintain goodwill between yourself and the buyer, leave practice valuation and cost negotiations to your practice-selling team. This will likely include an accountant, lawyer, insurance broker, financial advisor, and valuation consultant. It can be emotional hearing what people think your practice is worth — or not worth. It's ideal if the buyer has their own team, too.
Tip

Consider building a selling team of experts in healthcare practice transitions. They are better equipped than a generalist to protect your interests during this milestone event.
Invite the new doctor to shadow you
Ask the new doctor if they would be willing to work alongside you for a month or two before your departure, conducting routine examinations and scheduling follow-up appointments. This will give patients time to get accustomed to the idea of working with someone new in your office, which can encourage retention. Also let the new owner see your business reports, inventories, schedules, agendas — any information that detail the daily operations of your practice. This can help ensure a smooth transition on the business side of the practice.
Tip

Work with staff to update the employee manual. This will ensure current best practices are documented before the new physician takes ownership.
Take on a new role as mentor
A new owner — especially a first-time owner — may have lots of questions that don't occur to them until weeks or months after purchasing your practice. Ask them about their strengths and talk with them about which staffers can complement them. Also share your hard-won insights. For example, if you initially tried to be "just like" a doctor you admired but then discovered that you were happier and more effective when you were just being yourself, share that. It's good for a new owner to know they aren't expected to fill your shoes.
Helping another physician take ownership of your practice can indeed have its unique challenges. But by planning the transition well in advance and assisting the new owner afterward, you may find that everyone involved — you included — feels more optimistic about what is to come.
Resources for Small Business
Request a workbook designed to help your practice succeed.
Information and views provided are general in nature and are not legal, tax, or investment advice. Wells Fargo makes no warranties as to accuracy or completeness of information, including but not limited to information provided by third parties; does not endorse any non-Wells Fargo companies, products, or services described here; and takes no liability for your use of this information. Information and suggestions regarding business risk management and safeguards do not necessarily represent Wells Fargo's business practices or experience. Please contact your own legal, tax, or financial advisors regarding your specific business needs before taking any action based upon this information.
All credit decisions are subject to approval. For SBA loan products, SBA eligibility is also required. 
Equal Housing Lender