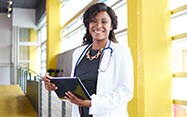 Without the use of a single word, your practice environment speaks volumes to your patients and clients. As soon as they walk through your door, what they see — in terms of interior design, organization, layout, and more — informs their impression about you and how you run your business. And those impressions may determine whether they return, refer others, or positively review your practice online.
Ideally, everything related to your business should deliver a specific message to your audience about the quality of care you provide. You, your staff, your marketing, your communications, your online presence, and your facility all play a role in solidifying your practice's brand image. However, your facility is your most "visible" (and physically largest) method of "brand expression" — that is, the physical manifestation of the philosophy and values you hold.
Whether you are primed for a redesign, are building a new facility, or simply want to lightly refresh your current space, use these tips to gather input and clarify your ideas.
Consider your personal experience
Think about a time when you entered a business and immediately felt uncomfortable. What made you feel that way? Clutter? Disorganization? Lack of upkeep? Outdated decor? Crowded furniture? Now think of a business that made you feel at ease right away. Was it more organized? Brightly lit? Modern? Clean and tidy? Over the next days or weeks, take note of what jumps out at you when entering a business, healthcare practice, or veterinary hospital, for example. Are there any ideas you can emulate? These strategies can give you an idea of what to start (and stop) doing at your facility.
Tip

Make a list of minor updates you can do without a lot of time or money. Cleaning up scuff marks, replacing dingy light switch plates, and other minor repairs can make a big difference in a first impression.
Get your staff to weigh in
Encourage staff to offer suggestions of ways you can create an environment that will support your brand message — and make their work more pleasant or efficient. Ask what they like and dislike about the current physical work environment. For example, can your front-office team easily handle both phone calls and individuals standing at the reception desk, ensuring privacy for all? Do any spaces feel too confining for the required interactions? Having staff assist in the design can ensure they take pride in their workspace, boost their morale, and ultimately support a more positive care experience.
Tip

If your team is reluctant to talk, consider offering an anonymous survey on office design. Also pay attention when they're talking to each other about elements they find frustrating, outdated, or broken.
Get outside opinions
Ask others (that is, those not related to you or your business) what they see and hear when they walk in the front door of your existing facility. How does your current physical space convey your management style and approach to care? Is there anything in the space that seems to contradict your desired brand expression? Or are they getting mixed messages? For example, paperwork is out of sight, but patient details are discussed loudly, which may point to the need for a more private check-in/checkout area. Also find out what they love about your place and wouldn't want to see changed.
Tip

Take some time to watch how patients move through your environment. What are they looking at? Bumping into? Asking about (e.g., the restroom location)? Keep ongoing notes about what to rearrange, where to add signage, and so on.
Do official market research
Clearly understanding the market and your competition may help you discover your ideal brand expression. Market research may also help you avoid costly mistakes when designing your new look. For example, an upscale branding of your practice can work against you in a more modest, price-sensitive neighborhood. Potential or even current clients and patients may perceive you as too upscale (and pricey) for them. Also consider enlisting professional market research help from someone who specializes in your field. (See Lease, buy, or build: What's best for your next practice location? for tips on market research.)
Tip

Market research is never once-and-done. Ongoing checkups on your community's demographic profile and needs can help you make needed adjustments to your brand expression over time — or even make decisions about relocating or retirement.
Bring in design support
Once you're clear about what you want to add, replace, or otherwise change, invite a professional design team to integrate your brand into the look, feel, and function of your practice. Building a project team that includes an architect, an interior designer, and a general contractor can set you on the right path.
Share your brand image and all your specific thoughts and wishes with your project team from the start to ensure on-target design concepts. For greatest buy-in from staff, invite them to review the design plans with you, too, and consider voting on options as a care team. Also invite people from various populations to take a look. They may have additional input you wouldn't think of. For example, what the government may consider wheelchair accessible may be good but not great. Having a ramp that's at the far end of the building may be helpful but not very welcoming.
Tip

Yes, you're working with pros, but don't hold back your ideas and concerns at any point. That creates an opportunity for the design, process, or budget to go off track. Encourage a free and fluid exchange of ideas and viewpoints, including your own.
Without saying a word, your practice has a distinct voice. Ensuring the facility design is in harmony with your brand can benefit you, your staff, and all who walk through your doors. Practice design is the most important, longest-lasting branding investment you can make.
Resources for Small Business
Request a workbook designed to help your practice succeed.
Information and views provided are general in nature and are not legal, tax, or investment advice. Wells Fargo makes no warranties as to accuracy or completeness of information, including but not limited to information provided by third parties; does not endorse any non-Wells Fargo companies, products, or services described here; and takes no liability for your use of this information. Information and suggestions regarding business risk management and safeguards do not necessarily represent Wells Fargo's business practices or experience. Please contact your own legal, tax, or financial advisors regarding your specific business needs before taking any action based upon this information.
All credit decisions are subject to approval. For SBA loan products, SBA eligibility is also required. 
Equal Housing Lender