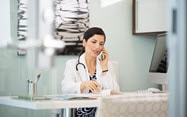 For many healthcare practitioners, getting paid in a timely fashion can be a challenge, thanks to the complexities of value-based compensation models, point-of-service payment systems, ever-changing billing codes, back-and-forth with insurers, and other pain points along the way. This can be costly: About $125 billion of payments are left uncollected by U.S. healthcare providers each year. Regardless of how much of that money should have entered your revenue stream, you may benefit from adopting strategies that can improve and accelerate your payment processes. Here are three tactics small practices may want to explore to get paid faster.
1. Switch to paperless claim submission
Digital practices that rely on electronic health records (EHRs) tend to deliver better and more efficient care, according to the Office of the National Coordinator for Health Information Technology. Shifting to a digital system may also increase profitability. On average, in 2020 an electronic claim submission cost medical providers $1.19 compared to $2.52 for a manual claim, according to the Council for Affordable Quality Healthcare (CAQH). For dentists in 2020, the costs were $3.63 for manual submission and $1.32 for electronic.
Most medical and dental practices have made the transition to fully electronic administrative transactions, according to the CAQH: 96% submitted their claims electronically in 2020. However, only 82% of dental practices file claims fully electronically — and they stand to save $2.31 per transaction.
Tip

If you're using claims-submission software, check if it can also help your practice stay up to date on changes to insurance or payment requirements. If you're shopping around, you may want to consider choosing a program with this feature.
2. Use software to bump up your clean-claim rate
What practice owner doesn't love medical claims that are submitted and reimbursed the first time around? This number — aka your clean-claim rate — should ideally be above 90%. Most practices hover about 15 points below that figure, though. Taking steps to improve it can not only get you paid faster, it can also be a relief to staff, who won't have to field complaints and resubmit paperwork, electronically or otherwise.
Improving the clean-claim rate takes effort from the entire practice. Submitting a clean claim requires:
Correct patient registration information
Proper recording of patient diagnostic and services-rendered information by clinical staff
The accurate coding of those services
To do this well, bring together representatives from all areas of the practice periodically to review reports generated by your claims-management software. Look for patterns to find out where errors and denials are occurring most often, then discuss proactive steps to prevent them in future. Also consider writing up these findings and including instructions in the employee manual or in the training materials of those who work on the claims. Reviewing incorrect claims as a team reduces confusion and allows a practice to figure out how they can be handled properly in the future.
Tip

Most practices are adept at submitting clean claims for their most common services. Ask staffers to doublecheck coding before submitting more complex claims and claims related to infrequently provided services. Help them find answers if they're not sure of the right approach.
3. Accept payments through a patient portal
Your practice likely collects revenue from two sources: Patients and third-party payers, such as insurers. Collecting payments electronically is usually the most efficient method. Plus, according to a 2020 report, 78% of patients would like to be able to use many of the contactless options that were made more widely available during the pandemic, including electronic payments.
At least 90% of healthcare providers now offer patient portals, which can provide patients with tools to play an active role in their care by allowing them to access health information easily, schedule appointments, request refills, and more. Portals can also allow patients to update insurance information, complete forms, and make online payments.
Switching to a digital system may help reduce your administrative workload and the time spent waiting for claims and checks to arrive by mail. Patient portals can also be used to send patients bill reminders and allow them to request a payment plan. If you don't yet have a portal, consider looking for one with a robust online payment experience.
Tip

At the end of each visit, have staff ask the patient about portal use. If they're not signed up, the staff should help them get registered before they leave and let them know who to call if they need help using it at home.
As medical claims processing has grown more complex, the potential for pitfalls has also increased. But by embracing some high-tech tools and strategies, healthcare practices can save money on submitting claims as well as accelerate their revenue cycles.
To learn more about tech options that can improve your practice, see these consumer-first trends for healthcare practices.
Resources for Small Business
Request a workbook designed to help your practice succeed.
Information and views provided are general in nature and are not legal, tax, or investment advice. Wells Fargo makes no warranties as to accuracy or completeness of information, including but not limited to information provided by third parties; does not endorse any non-Wells Fargo companies, products, or services described here; and takes no liability for your use of this information. Information and suggestions regarding business risk management and safeguards do not necessarily represent Wells Fargo's business practices or experience. Please contact your own legal, tax, or financial advisors regarding your specific business needs before taking any action based upon this information.
All credit decisions are subject to approval. For SBA loan products, SBA eligibility is also required. 
Equal Housing Lender