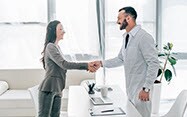 The second highest expense for most practices is real estate, so it's well worth negotiating. (Payroll is number one.) Real estate costs encompass your monthly rent or mortgage payments, as well as the property's operating expenses, maintenance fees, utilities, and janitorial costs.
For starters, don't feel locked into your current setup. You have the choice of leasing or owning, as well as locating in an office building, a retail center, a freestanding building, or a large medical complex. You can choose the size of your space, its design, and the landlord you want to work with — or you can choose to purchase your space and be your own landlord. And if you do purchase, you get to decide whether to buy an existing property or build one from the ground up.
If you've decided that lease renewal is the way to go right now, keep in mind that this is negotiable, too. But remember that lease renewals are not typically conducted on a level playing field. After all, most landlords are experienced real estate professionals, and most doctors are not.
By following the guidelines below, it's possible to negotiate a lower lease rate while receiving a substantial tenant improvement allowance, free rent, and other desirable terms.
1. Start a year in advance
You should ideally begin the lease renewal process 12 to 18 months before your lease expiration. This is recommended to ensure ample time to compare all relocation options in the market before your current lease options expire.
Tenants who miss their lease options incur more risk, and landlords view this as an opportunity to push rents higher as the window of opportunity to relocate diminishes. If you become a holdover tenant (one who stays in the space after the lease expires), you could see penalties of 150% to 200% of your last month's rent. You may also incur additional damages if you are a holdover without permission. If there is not enough time for you to relocate, the landlord will have a stronger position in the negotiation.
Tip

Look at your lease's expiration date — today — and put a reminder in your calendar 12 to 18 months ahead of it, so you'll have plenty of time to prepare.
2. Read your existing lease
A common mistake of practice owners is not being familiar with their current contract and risk exposure. Prior to contacting the landlord about a lease renewal, you should have a thorough understanding of the terms of your current lease, including every option and deadline.
Most leases contain options that must be exercised within a specific time period — typically six to 12 months prior to the lease's expiration. If you allow this period to pass, you risk losing all rights outlined in the option, which can put you at a disadvantage before negotiations begin. 
3. Check specifically for a renewal option
One important clause found in most leases is a renewal option. This allows you to extend your lease for a predetermined amount of time (often three, five, or 10 years) by giving your landlord advance written notice.Renewal options may include terms for specific lease rates, concessions such as free rent, tenant improvement allowance, and more. Alternatively, the renewal option may call for a brand-new negotiation of all the financial terms based upon the current market. Be sure you know what you're getting into.
Tip

Whether or not a renewal clause exists in the original lease, the terms mentioned above are all negotiable and play a large role in the financial structure of a lease renewal.
4. Look at the market
Your current lease rate can be vastly different from other options in the market, especially if your lease has had automatic escalations over several years. The way to calculate your annual price per square foot is to multiply your monthly rent by 12 months and then divide by your square footage. Keep in mind that NNN or CAM charges (operating expenses for the property) are also calculated in the same manner. These numbers can help you see whether you'd be better off renegotiating or merely re-upping your current lease.
Tip

Enlist specialized real estate representation (see below) to help you make sense of these numbers and decide what's the right move for you.
5. Employ specialized representation
If steps 1 through 4 still seem a bit daunting, this one can help you sort things out: Employ a real estate representative who specializes in working with practice owners. Having proper representation means landlords can't take advantage of your lack of expertise in real estate, the current market, and negotiation in general. Bringing your rep to the negotiation table also increases your credibility, saves a substantial amount of your valuable time, and typically results a considerable savings to you.
More good news: Commissions are paid by the property owner. This means your representation will not cost you a dime.
Tip

Look for a commercial real estate professional who specializes in representing healthcare providers. They will have a better understanding of your unique needs as a tenant and business owner.
Lease renewals can be tricky because landlords typically have expertise you don't. You can level the playing field by engaging your own professional representation, gaining competitive market knowledge, and investigating all your options. When done properly, a well-negotiated lease renewal can have a significant impact on your practice's profitability.
Resources for Small Business
Request a workbook designed to help your practice succeed.
Information and views provided are general in nature and are not legal, tax, or investment advice. Wells Fargo makes no warranties as to accuracy or completeness of information, including but not limited to information provided by third parties; does not endorse any non-Wells Fargo companies, products, or services described here; and takes no liability for your use of this information. Information and suggestions regarding business risk management and safeguards do not necessarily represent Wells Fargo's business practices or experience. Please contact your own legal, tax, or financial advisors regarding your specific business needs before taking any action based upon this information.
All credit decisions are subject to approval. For SBA loan products, SBA eligibility is also required. 
Equal Housing Lender