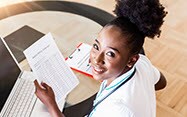 As a practice owner, you are directly responsible for the financial performance of your practice. This responsibility may require you to understand your business's cash flow — the numbers you plan to achieve in order to meet your obligations and earn a profit — and the most effective ways to generate those numbers.
Indeed, understanding your cash flow is one fundamental aspect of ultimate financial success. Here are several important steps you can take to effectively manage and generate cash flow:
1. Establish production goals
Production is the first step toward a healthy cash flow. To sustain and grow your practice, your goal may be to collect enough of what you produce to cover your operating expenses, pay down debt, and deliver adequate profit. One important key to maximizing your cash flow is to establish daily and monthly production goals and a plan for reaching them. For example, try to maintain a full schedule by staying on time to the extent possible to avoid losing appointments and working late. Also maintain a waiting list and call those patients to fill any open slots due to cancellations. 
Tip

Evaluate production goals regularly to keep them realistic, based on your current patient load, work schedule, and staff constraints. Consider reiterating daily production goals to staff in your morning meeting.
2. Improve internal systems
Internal systems can encompass everything from patient collections portals to staff payroll software, and they can be critical in establishing both operational and financial efficiencies. Using ineffective patient follow-up systems can take time away from your professional development or business planning, and computer programs that don't capture all charges may limit your cash flow. Developing an efficient, effective, and quality-driven internal operation may help support your cash flow function while upholding your brand and overall practice value.
Tip

Consider sending automated billing reminders the week before a patient's bill is due — and billing at the end of each week rather than the end of each month. Both strategies can help you get paid more quickly.

Learn about tools that can get you paid faster

.
3. Invest in marketing
Marketing can be a critical factor to cash flow generation — not just when you're starting your practice, but throughout your career. By routinely investing in a marketing program that may include a website, social media, and community and industry engagement, you can help ensure a regular flow of patients to your office along with a potentially robust production schedule. To get the most for your marketing dollars, take a look at Digital marketing: What to DIY and what to refer out.
Tip

Create an effective "internal" marketing program that lets your employees know about your new products, services, treatments, and specials. This ensures they can offer all options to patients (or look into them for themselves).
4. Take control of debt
Starting your own business often means incurring debt around real estate, office remodels, equipment, and supplies. To take control of your debt, consider consolidating loans and credit accounts to possibly lower monthly payments. Try to pay more than what's due, especially on bills with a higher interest rate. Also, see if you qualify for lower interest rates on existing loans and credit cards, and look at other fees and charges to see if they can be waived. Every dollar adds up.
Tip

Place a percentage of monthly profits in an interest-bearing savings account so you'll have cash on hand in case of a bad month or an unanticipated expense.
5. Create a budget and stick to it!
One plan for helping to ensure your spending levels are reasonable is to create an annual financial forecast with a specific budget for each month. Here's a suggestion on how to do it:
Determine your projected gross income. Guesstimate the number and types of procedures you expect to perform each week (based on recent months or years) and use this to calculate what you expect to earn in a month.
List your operating expenses and overhead per month. That's anything required to keep the doors open, such as salaries, lease payments, supplies, and monthly subscription fees. Total up these costs.
Determine your projected monthly cash flow. To do this, subtract your operating expenses and overhead from your projected gross income.
Create a budget. Make a list of all your other expenses, such as continuing education, kitchen snacks, marketing, and other nice-to-haves. Decide how much of your projected gross income to allocate to each category per year, per month, and per week.
Tip

Look at your budget each month to ensure you're staying on track. If not, it may be time to rethink your allocation or dial back in certain areas. Remember that finding ways to ramp up production and profits will mean more money to put toward improvements.
Tuck these ideas for managing and generating cash flow in your practice-management toolkit, and you'll be well on your way to maximizing the financial performance of your practice and helping to ensure its continued success in years to come.
Resources for Small Business
Request a workbook designed to help your practice succeed.
Information and views provided are general in nature and are not legal, tax, or investment advice. Wells Fargo makes no warranties as to accuracy or completeness of information, including but not limited to information provided by third parties; does not endorse any non-Wells Fargo companies, products, or services described here; and takes no liability for your use of this information. Information and suggestions regarding business risk management and safeguards do not necessarily represent Wells Fargo's business practices or experience. Please contact your own legal, tax, or financial advisors regarding your specific business needs before taking any action based upon this information.
All credit decisions are subject to approval. For SBA loan products, SBA eligibility is also required. 
Equal Housing Lender
QSR-1022-01663