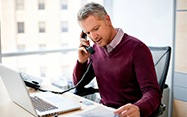 Wells Fargo Works: Tell us about the history and growth of your business.
Mike Pogue: Our owner, Vincezo Marzella, originally started working in Montreal, Canada, where the business focused on iron and steel jobs like custom fabricated gates and rails. Then they moved down to South Florida, and launched VM Iron Works and Structural Steel Corp. as it exists now, in 1995. With the building boom in Florida, the business evolved into focusing more on structural steel for large commercial buildings. That means we fabricate and install the "guts" of the building, like the steel in the columns and beams. 
Wells Fargo Works: What are some of the main cash flow challenges your type of business experiences?
Pogue: The general contracting business is always tricky when it comes to cash flow. It's especially tough in Florida, where the law states that the general contractor has to provide the bank or funder with a release of lien from all the companies who worked on the project in the prior billing period before they can receive funding. And to do that, you have to pay all those vendors, subcontractors, etc., before you can receive the payment for your project.
Being in this industry is a really tricky game because you have to play with your cash flow to manage that critical three- or four-day period between getting everyone their checks, getting their releases, and getting those releases to the funder so you can get paid. Managing this gap is complicated, and if we want to get the big projects, we have to have access to cash just for that period. 
Wells Fargo Works: How do you manage through these periods?
Pogue: Lines of credit are huge. And generally projecting, in advance, what's going to happen in the next month is a big part of it. We know our fixed costs, we know what payroll is going to be, but we don't always know what sub-costs are going to be, or how much additional labor we're going to have to bring in, a month or two months out. So I try to match up payables, receivables, and projections for when we're going to collect on a project. And that's obviously all about knowing the business and our customers, and making educated decisions around what's going to happen, based on historical data.
In working with Wells Fargo, they've been helping us find efficient ways to manage payroll and deposits, so we can stay as current on those payments as possible, which is, of course, essential.
Wells Fargo Works: As you become better able to manage those cash flow issues, it makes sense that you become increasingly able to take on larger projects. But does it take even longer for you to get paid on those?
Pogue: Actually, sometimes it's the opposite with bigger jobs because they're more regimented and the pay is more consistent. There's more urgency. Those businesses have put their money out and they don't want to pay interest for two years. They want to pay for six months and get the business open and start turning a profit on their investment. So in my experience, bigger jobs typically pay faster.
Wells Fargo Works: What's your advice for other small business owners managing cash flow?
Pogue: I think that a lot of small businesses experience the worst cash flow issues when they don't carefully project where the business is going. So at VM Iron Works, we're trying to be very conscientious of where we are and where we're going.
Resources for Small Business
Find the right business credit to help you meet your financial needs:
Information and views provided are general in nature and are not legal, tax, or investment advice. Wells Fargo makes no warranties as to accuracy or completeness of information, including but not limited to information provided by third parties; does not endorse any non-Wells Fargo companies, products, or services described here; and takes no liability for your use of this information. Information and suggestions regarding business risk management and safeguards do not necessarily represent Wells Fargo's business practices or experience. Please contact your own legal, tax, or financial advisors regarding your specific business needs before taking any action based upon this information.
All credit decisions are subject to approval. For SBA loan products, SBA eligibility is also required. 
Equal Housing Lender