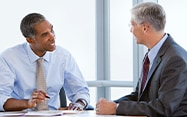 Many small businesses go without employing treasury management solutions.
Sometimes this is because they're not familiar with them, and other times it's because they feel they're doing fine without them.
Simply put, treasury management solutions help a business manage their payables (money going out) and receivables (money coming in). In reality, even small businesses can benefit from convenient options for managing these aspects of cash flow.
Why? The more time a business leader spends on administrative tasks like bills, payroll, and receivables, the less time they have to invest in strategic activities like sales growth and marketing improvements.
An overview of top treasury management solutions
When it comes to day-to-day cash flow management, accounting software isn't the only resource to consider. For instance, if your business receives checks from customers, vendors, and suppliers, how much time do you spend taking trips to the bank to make those deposits?
Consider switching to electronic deposits wherever possible to potentially improve cash flow management, keep your deposits safer, and save you some time. You'll also be notified more quickly if any deposited items are not good. Faster notification of returned items can help your business improve information collection and cash flow predictability.
Specifically, here are some ways treasury management can help smaller businesses:
Accept deposits and credit card payments.
Make payroll, vendor, and tax payments.
Paint a correct, current, and comprehensive portrait of their financial health.
Send domestic, international, and foreign exchange (FX) wires.
Monitor accounts and use fraud protection services.
Choosing the right solutions for your business
The treasury management solutions your business needs depend on a variety of factors, including your most common transaction types, transaction amounts, volumes, budget, location, and priorities.
Talk with a relationship manager and discuss your business details and needs. They can help assess your needs and provide you with a variety of options so you can select the ones that are best for your business.
Resources for Small Business

Product Selector
Find options for your business needs
Information and views provided are general in nature and are not legal, tax, or investment advice. Wells Fargo makes no warranties as to accuracy or completeness of information, including but not limited to information provided by third parties; does not endorse any non-Wells Fargo companies, products, or services described here; and takes no liability for your use of this information. Information and suggestions regarding business risk management and safeguards do not necessarily represent Wells Fargo's business practices or experience. Please contact your own legal, tax, or financial advisors regarding your specific business needs before taking any action based upon this information.
Wells Fargo Bank, N.A. Member FDIC.