Running your business in the COVID-19 era may lead to cash-flow complexities: you may be managing payments from a wider range of customers, rethinking your staffing, changing your facilities, or purchasing new inventory. Any of these activities can affect cash flow.
The key to optimizing your cash flow during changes to your business is a streamlined cash conversion cycle. In other words, less time between purchasing inventory (or investing in a service) and the sales that generates.
These five tips may help you improve cash flow by potentially shortening your cash conversion cycle.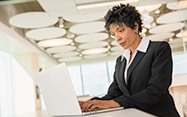 1. Get paid quicker
A cash-flow review starts with examining business receivables, says Philip Campbell, CPA, a financial officer and consultant in Austin, Texas, and author of A Quick Start Guide to Financial Forecasting. Businesses can run into trouble in this area, he notes, when they're so focused on increasing sales that they're slow to invoice customers or follow up on collecting overdue payments.
If your receivables cycle is increasing, consider:
Accepting payments online. Give customers the ability to pay via your website. Wells Fargo Merchant Services enables you to accept credit and debit card payments by phone, online, or on the go.
Automating billing. Use accounting software like QuickBooks® Online or Xero® to automatically send invoices; these tools can sync with your Wells Fargo business account, which can reduce the number of hours you spend collecting and logging receivables.
2. Update your inventory
Many businesses pivoted in 2020, and it can be easy to forget about outdated products languishing in inventory. This trend can take different forms for each industry. For instance, retail stores may have obsolete items on their shelves, service businesses may be stocked with supplies for infrequently used packages, and manufacturers may have old materials still taking up space in the warehouse.
While discarding or selling old inventory at a discount may temporarily hurt gross profit margins, Campbell explains that, in the long run, it's more important to regain cash tied up in stale merchandise.
To improve your days inventory outstanding, consider:
Assessing which products are worth marking down to be quickly sold and which should simply be eliminated.
Update your point-of-sale (POS) system to help make discounts easy and automatic.
Inventory tracking software, which is often available through POS systems, as well as accounting software, can help you determine discounts, as well as how you might handle inventory going forward.
3. Budget for rebuilding
In addition, cash-flow issues can arise when you need capital for an immediate investment. For instance, a business may need to hire new employees to accommodate a pivot, creating a lag between the hire and new paying customers. Or you might need to shift office spaces to account for changes to your business model or to accommodate social distancing.
Typically, with accounting, capital expenditures don't show up in an expense period, Campbell explains. But they can still affect cash flow. For example, spending $10,000 on a new piece of equipment doesn't appear on the company's income statement but would affect cash flow.
If you can, try to set aside cash in advance toward these types of investments or consider strategically using any available credit.
4. Examine your pay
Owner distributions appear on the balance sheet, rather than the profit and loss statement, so it's not always apparent if these distributions are out of line with sales and affecting cash flow.
Campbell says if a business's profits are decreasing, it's important to rethink owner distributions to preserve the long-term health of the business.
5. Accounts payable
Controlling cash outflow is just as important as expediting cash inflow. While the tendency may be to delay payables as long as possible, it can also be beneficial to make payments immediately, to demonstrate goodwill with suppliers and avoid funds being intentionally or unintentionally redirected.
These tools can help you make sure your days payable outstanding works with broader company goals.
Employ electronic payments when possible. This avoids processing delays so you can better maintain control of your outflows and improve record keeping. It can also help prevent fraud associated with paper payments. Wells Fargo offers a number of ways to pay vendors electronically, including Bill Pay and Direct Pay.
Issue purchase orders for each project. You can use accounting software to do this; it may help you lock in payment terms upfront and streamline invoice tracking.
Cash flow can be key to feeling in control of your finances, which is even more important in today's volatile environment. These tips, combined with Wells Fargo products and services, can help you manage your cash flow and focus on the future.
Resources for Small Business
Small business owners on current and future perceptions of their business financial situation.
When depositing into a Wells Fargo business deposit account. Please refer to the Merchant Services Terms and Conditions and Operating Rules or Program Guide for additional information.
QuickBooks is offered by Intuit, Inc. Wells Fargo doesn't own or operate QuickBooks. Intuit is solely responsible for its content, product offerings, privacy and security. Please refer to Intuit's terms of use and privacy policy, which are located on Intuit's website and are administered by Intuit.
QuickBooks is a registered trademark of Intuit, Inc.
Xero® accounting software is offered by Xero Limited. Wells Fargo doesn't own or operate the Xero website. Xero is solely responsible for its content, product offerings, privacy and security. Please refer to Xero's terms of use and privacy policy, which are located on Xero's website and are administered by Xero. For more help, visit Xero support.
Xero is a trademark of Xero Limited.
Direct Pay access costs $10 per monthly billing cycle for each business enrolled. There is no fee for Direct Pay payments made to Wells Fargo personal bank accounts. Direct Pay payments to non-Wells Fargo personal bank accounts are $0.50 per payment. Direct Pay payments made to business bank accounts are $3 each.
You may settle your Merchant Services funds to an account at the financial institution of your preference. When you use a Wells Fargo account for settlement or other Merchant Services purposes, you must use a Wells Fargo business deposit account.
Deposit products offered by Wells Fargo Bank, N.A. Member FDIC.
Merchant Services are provided by Wells Fargo Merchant Services L.L.C. and Wells Fargo Bank, N.A. Merchant Services are not deposit products. Wells Fargo Merchant Services L.L.C. does not offer deposit products and its services are not guaranteed or insured by the FDIC or any other governmental agency. Merchant Services are subject to application, credit review of the business and its owners, and approval.
Information and views provided are general in nature and are not legal, tax, or investment advice. Wells Fargo makes no warranties as to accuracy or completeness of information, including but not limited to information provided by third parties; does not endorse any non-Wells Fargo companies, products, or services described here; and takes no liability for your use of this information. Information and suggestions regarding business risk management and safeguards do not necessarily represent Wells Fargo's business practices or experience. Please contact your own legal, tax, or financial advisors regarding your specific business needs before taking any action based upon this information.
All credit decisions are subject to approval. For SBA loan products, SBA eligibility is also required. 
Deposit products offered by Wells Fargo Bank, N.A. Member FDIC.
Equal Housing Lender