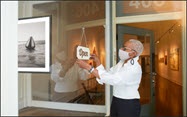 Whether your business is just starting up or preparing for expansion, credit can help support your short- and long-term financial goals. You'll find there are a number of benefits to having business credit. However, before you apply, it's important to determine whether your business is ready for credit.
Follow these tips to ensure your business is fully prepared to obtain financing:
1. Review your credit history
Lenders will thoroughly examine both your personal and business credit history before making a credit decision. Before you approach a potential lender, request a copy of your personal credit report. If you find errors in your credit report, contact the credit bureau. 
2. Gather financial documents
You will likely need tax returns and financial statements for your business if you are applying for a term loan or line of credit. For a Small Business Administration loan, you may also need to present a formal business plan.
3. Determine how much capital your business needs
Before you walk into the lending office or fill out a credit application form, figure out exactly how much money your business needs to borrow, and make sure it's a realistic amount. If you're not sure how much capital to ask for, consider consulting a financial professional. He or she will closely examine your cash flow and current debt load to determine how much financing you actually need. Also, be prepared to tell the lender how you plan to use the money. For example, you may explain that you will use the capital to pay for additional office space and furniture.
4. Understand all your lending options
It's important to identify all the lending options available to you and determine which one is the best choice for your business. You will also want to consider the process and the timing. For example, loan decisions below $100,000 may be based on your credit profile and basic information, while larger amounts may require a detailed review of your finances.
5. Consider payment terms
You also have to decide how long you will need to repay your credit. There are short-, medium-, and long-term loans, and they all have positives and negatives. For example, if you expect to be able to pay back the money quickly, a short-term loan may be the best choice.
Resources for Small Business
Find the right business credit to help you meet your financial needs.

Information and views provided are general in nature and are not legal, tax, or investment advice. Wells Fargo makes no warranties as to accuracy or completeness of information, including but not limited to information provided by third parties; does not endorse any non-Wells Fargo companies, products, or services described here; and takes no liability for your use of this information. Information and suggestions regarding business risk management and safeguards do not necessarily represent Wells Fargo's business practices or experience. Please contact your own legal, tax, or financial advisors regarding your specific business needs before taking any action based upon this information.
All credit decisions are subject to approval. For SBA loan products, SBA eligibility is also required. 
Equal Housing Lender