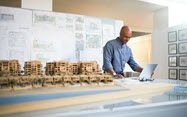 A responsible, strategic approach to business credit is essential to long-term sustainability. By proactively identifying your unique business needs and goals, and how you may be able to employ credit for help meeting these needs, you can lay the foundation for the next phase of your business today.
Refer to this guide as you prepare your company for the next phase of growth and as your business credit needs evolve.
Discover credit strategies and needs for later-stage businesses (PDF)
Resources for Small Business
Find the right business credit to help you meet your financial needs:

Information and views provided are general in nature and are not legal, tax, or investment advice. Wells Fargo makes no warranties as to accuracy or completeness of information, including but not limited to information provided by third parties; does not endorse any non-Wells Fargo companies, products, or services described here; and takes no liability for your use of this information. Information and suggestions regarding business risk management and safeguards do not necessarily represent Wells Fargo's business practices or experience. Please contact your own legal, tax, or financial advisors regarding your specific business needs before taking any action based upon this information.
All credit decisions are subject to approval. For SBA loan products, SBA eligibility is also required. 
Equal Housing Lender