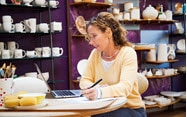 As a small business owner, you need to approach any meeting with a lender the same way you would a potential investor meeting. First and foremost, you will need to understand your cash flow need, then capacity to repay additional debt. 
Analyze your current operating cash flow
Before applying for business credit, review your past cash flow statements and develop a realistic operating cash flow need that demonstrates you can safely incur debt. If you're new to developing operating cash flow needs, use this template to get started. 
A business will generally borrow short term funds to meet cash flow needs when there is a gap between the receipt of Account Receivables and Account Payables. Term Financing is generally to purchase assets for the business or make a capital injection. Lenders review the purpose of your request and then look mainly at the business debt service coverage ratio— the amount of net operating income available to cover obligations and debts — of 1.25, or enough to cover 125% of all obligations. This means you should look to generate at least $1.25 in cash flow to cover every $1 in debt payments.
The interest payment on a Line of Credit for example is included in the 125% debt coverage ratio. If a small business can meet their debt service obligations including new debt, lenders view this as acceptable risk. For term financing the Debt Service Coverage ratio would include a payment of principal and interest in the 125% DSC calculation.
Improve your marketing/sales strategy and receivables management for your cash flow projection
Your cash flow should show that through the generation of revenues, Accounts Receivable are being collected in a timely manner and the lender can rely on the collection of the Accounts Receivable to repay the principal balance on a line of credit.
If your small business sells widgets off the shelf, you need to prove that you can attract and convert a broad base of customers while keeping your shelves full. Alternately, if you provide consulting services for widget manufacturers, you need to prove that you can quickly collect payments owed by clients. Assess how you can better control inventory and collect receivables timely by looking at the efficiency of your sales process and how you track shipments.
Prepare your books to show operating cash flow
As your small business grows, and your need to obtain credit becomes greater, the type of financial statements you need to present to lenders will evolve.
At the smaller end of the market, usually for credit of $100,000 or less, lenders will often accept self-prepared case base tax returns. As your request for credit gets higher, financial quality increases for the lender from requiring accrual base tax returns to CPA-reviewed.
To obtain credit, you will need to provide historical business financial statements that show a track record of past performance and a strategy and/or business plan offering confidence that you can do it again.
Resources for Small Business
Find the right business credit to help you meet your financial needs. 
Information and views provided are general in nature and are not legal, tax, or investment advice. Wells Fargo makes no warranties as to accuracy or completeness of information, including but not limited to information provided by third parties; does not endorse any non-Wells Fargo companies, products, or services described here; and takes no liability for your use of this information. Information and suggestions regarding business risk management and safeguards do not necessarily represent Wells Fargo's business practices or experience. Please contact your own legal, tax, or financial advisors regarding your specific business needs before taking any action based upon this information.
All credit decisions are subject to approval. For SBA loan products, SBA eligibility is also required. 
Equal Housing Lender