When applying for business financing, accuracy is of utmost importance. The more accurate the information provided in the application, the more likely the application will lead to a quick decision by the lender.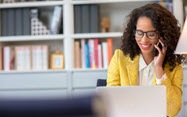 Application mistakes can complicate matters and cause applications to have a delayed decision or be declined. When submitting your application, make sure to keep these considerations in mind:
Apply for the appropriate product
For small business, there are three main credit types: credit cards, lines of credit, and term loans.
Credit cards may be used for small purchases including office supplies, meals, and travel.
With a line of credit, a business can access funds from the line as needed and only pay interest on the amount of funds taken until repaid. Credit lines are designed for short-term working capital needs, such as paying for inventory, and maintaining cash flow.
Term loans are designed for making specific purchases, such as equipment, vehicles, real estate, or renovations. The bank loans the business a fixed amount based on the cost of the purchase. Loans with fixed interest rates may make it easier for the business to budget as they will likely have fixed monthly payments.
If you're unsure which kind of credit product is right for your needs, discuss it in detail with your banker before you make a decision and apply.
Apply for the right amount of credit
If you have a specific purchase in mind, then apply for the amount needed to cover the cost of that purchase. On the other hand, it can be difficult to know how much money is needed to cover costs like redesigning a website or a business expansion. Take on too much debt, and you may be paying interest on money you don't need or use. Take out too little, and you may not have enough to cover expenses.
Give accurate information
Providing comprehensive application information will help your application move through the process as quickly as possible.
Before submitting your application, double-check for accuracy in these areas:
Reporting of revenue
Reporting of personal income
Reporting all assets and bank accounts
Ownership (e.g., claiming the business is owned by a single person when it is partially owned by several)
Business name (e.g., business name given on the application varies from the legal name)
Representation of personal finances
Personal financials can be as important as the business's health when obtaining credit, especially for a young business. A strong personal debt-to-income ratio is one of the key factors that lenders examine when determining your eligibility. For the lender, the business owner is considered a secondary source of repayment and, as such, must be creditworthy.
Be sure to accurately state personal income to ensure the underwriter gets a clear picture of your finances.
It's important to be aware of these steps. Work closely with a banker, and be open and honest in all disclosures. A banker can be a valuable resource by providing information about options so you can select the right product and amount.
What happens once you submit your application? Learn the next steps.
Resources for Small Business
Find the right business credit to help you meet your financial needs
Information and views provided are general in nature and are not legal, tax, or investment advice. Wells Fargo makes no warranties as to accuracy or completeness of information, including but not limited to information provided by third parties; does not endorse any non-Wells Fargo companies, products, or services described here; and takes no liability for your use of this information. Information and suggestions regarding business risk management and safeguards do not necessarily represent Wells Fargo's business practices or experience. Please contact your own legal, tax, or financial advisors regarding your specific business needs before taking any action based upon this information.
All credit decisions are subject to approval. For SBA loan products, SBA eligibility is also required. 
Wells Fargo Bank, N.A. Member FDIC.
Equal Housing Lender