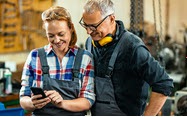 Person-to-business (P2B) payments happen when a customer uses a service such as Zelle® to pay a business for their goods or services directly from their bank account. The percent of customers using P2B payments increased from 16% in 2014 to 22% in 2020. Contactless payments allow customers to pay by Apple Pay®, Google Pay®, or a contactless credit or debit, passing the device over a payment terminal enabled with near-field communication. The percent of customers using contactless payments jumped from 16% in 2014 to 28% in 2020. Digital payments also include ecommerce transactions facilitated through online merchant services as well as wire transfers and ACH deposits.
If you're considering a similar shift, it can help to learn from the experiences of others. We spoke to owners from different industries to find out how and why they began accepting and making digital payments, what they've learned, and what lessons they would share with other business owners. Here's what they said:
Who: Founder of a woodworking business
Why digital payments: He prefers P2B services to accept payments from the clients he knows who purchase his creations. He estimates that these payments make up about two-thirds of the money he receives from customers. He likes the P2B option because his customers are familiar with paying through this channel for other goods, and it's also convenient for both parties. When it's time to pay taxes, he simply prints out his order log for the year. 
Transition to digital: He's accepted P2B payments since day one because he was already using this channel to pay for goods for his business. He finds this option takes the pain out of the payment process. 
Customer reaction: Positive – most customers are generally eager to pay using P2B services because they are familiar with them and find them easy to use. 
Advice to other small business owners: Be open to adding digital payment options. He finds that some other small businesses are reluctant to try digital payments. When it comes time to buy his carpentry supplies, he needs to pay by credit card because many of the small merchants he deals with don't yet accept P2B payments. 
Who: Owner of a construction firm
Why digital payments: The head of a construction firm accepts a variety of payments. She welcomes any digital payment from clients and vendors such as P2B services and wire transfers because she said they're convenient and cost-friendly to her business. 
Transition to digital: She admits there was a learning curve in the beginning to accept P2B services. However, once she completed onboarding the first P2B service, it became easier to add new payment methods since she was familiar with the process. 
Customer reaction: Digital payments are quick and convenient for clients. Offering multiple payment options helps her stand out from competitors in the construction industry who haven't moved beyond accepting cash, check, or physical credit card payments. 
Advice to other small business owners: Do your research before adding a payment provider. Study the provider's own information, reviews from other owners, and the fees you will have to pay. 
Who: Head of a haircare products business
Why digital payments: He offers clients the option to pay through P2B services and contactless payments. Digital payment options keep his clients happy at a time when his company is facing well-funded new competitors who are entering the industry. 
Transition to digital: He's seen his payments shift over the years from exclusively cash and check to a mix of credit cards and P2B services. Overseas clients are sometimes reluctant to share credit card numbers online, making payment services or transfers, where they don't have to share personal information beyond an email or mobile number, more appealing. 
Customer reaction: His client base is skewing younger, changing the expectations from customers for payment options. He added contactless card payment options when he realized clients expected to pay simply by tapping their credit card, mobile phone, or other device. 
His advice to other small business owners: Be sure you understand the risks and upsides. But remember one benefit is how you open your business to new opportunities and clients by offering additional ways to pay. 
Who: Founder of a firm that helps startups with product development
Why digital payments: For the past three or four years, he's favored merchant services providers that allow him to accept online payments through his website or app. His firm also helps his startup clients set up and accept digital payments.
Advice to other small business owners: He's seen the ease and capabilities of digital payments advance greatly from five years or ten years ago. He advises other business owners to consider the cost of the digital payment provider, how smoothly the technology will integrate into the business's existing systems, and how well the provider protects all parties against potential fraud. 
The future of digital payments for small business
Thanks to their ease and convenience for customers, more recent digital options such as P2B services and contactless payments are here to stay. Small business owners who adopted new payment types generally don't shift back, and report high satisfaction with them. 
If you're interested in exploring your payment options, get in touch with your Wells Fargo small business banker or Merchant Services specialist. They can help you understand the payment option that can work best for your business, and help you stay current with your customers' preferences.
Resources for Small Business
Business Plan Quick Builder is an interactive tool to help create your business plan.