Review who has access to your business accounts.
Account Access Manager
Whether it's an employee, a bookkeeper, or an accountant, you can review who has been added to your account. Account Access Manager provides owners and key executives:
An overview of individuals who have been added to each account.
The ability to remove authorized signers (non-owners) from eligible business deposit accounts via Wells Fargo Business Online® instead of visiting a branch.
Access to Guest User management. You can grant an individual online "View Only" access to one or more of your accounts, manage their usernames and passwords, and edit/cancel a guest user's access anytime. 
We recommend that you review who has access to your accounts from time to time to ensure it meets your current needs.

Go to Account Access Manager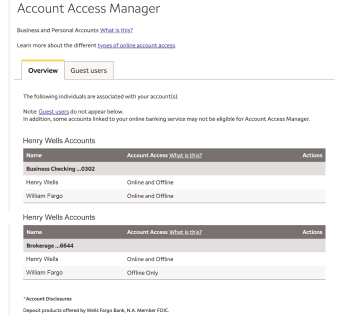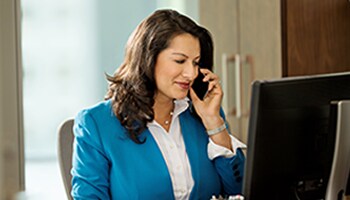 Business credit card administrator
As a business owner, you can grant access to designees who can access and manage your business credit cards online or offline.
As a business credit card administrator, the designated person can:
View account information.
Perform certain transactions.
Remove other administrators from your accounts.