Clover is a revolutionary next-generation point-of-sale system built for businesses like yours. Clover POS systems make it simple to support payment technologies like Apple Pay®, Android PayTM, and EMV chip cards. Business apps let you customize your Clover to run your business your way. And a cloud-based design keeps your system up to date and lets it grow with you.
With three sleek, sophisticated devices to choose from, there's a Clover solution to suit many business  needs. And, with a Wells Fargo Merchant Services account, you can count on the expertise and support from a dedicated team.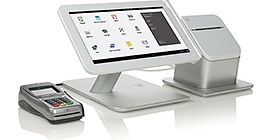 Clover station is the flagship countertop POS system in the Clover family. It features a swiveling touchscreen display, integrated card reader, camera, and receipt printer.
Ideal for
Restaurants, retailers, and personal service businesses seeking a modern, integrated POS system to streamline management.
Customize your system
Tailor your Clover Station to your business needs with a cash drawer, kitchen printer, barcode scanner, contactless PIN pad, and more.
Internet connectivity
Choose Ethernet or Wi-Fi.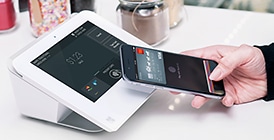 Clover Mini replaces bulky terminals with a compact touchscreen device that frees up valuable counter space while expanding your payment and management capabilities. It features an integrated PIN pad and arrives ready to accept EMV chip cards.
Ideal for
Any business where space is at a premium. Clover Mini is a robust solution that upgrades itself over time into a small footprint.
Internet connectivity
Choose Ethernet or Wi-Fi, plus 3G capability (bring your own or data plans available).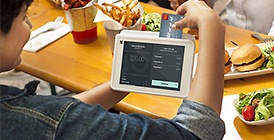 Clover Mobile puts all of the payment and management power of Clover in your hands. Use it as a standalone device, or as part of an integrated Clover station system. It arrives ready to accept EMV chip cards.
Ideal for
Mobile businesses such as food trucks, pop-ups, and in-home services, as well as kiosks, retail "line busting," and pay-at-table opportunities. 
Customize your system
Tailor Clover mobile to your business needs with a docking station or Bluetooth mobile printer.
Internet connectivity
Choose Wi-Fi and 3G capability (bring your own or data plans available).
Turn your Clover system into a business performance hub with the Clover App Market. Choose from an expanding selection of apps to manage employees, streamline accounting, build customer engagement and loyalty, and harness the power of analytics to move your business forward.
Features
Easy installation. Install apps right on the home screen of your device. If you have more than one Clover, apps installed once can sync across all of your devices.
Sophisticated reporting. Clover apps let you analyze transaction data, identify strengths and challenges, and make smarter decisions.
With Clover, your business information is more accessible and secure in the cloud.
24/7 access. Manage your business from any computer or mobile device, even if you're not on site, and see synchronized information from up to 4 locations.
Automatic updates. Software updates are automatically delivered to your device, so you'll always have the latest version and strongest security features.
Security. Safeguard your customers' card data with the latest security technology — including end-to-end encryption and tokenization.
More payment technology
Learn more about Mobile payments and EMV chip cards.
Or, call us for a quote at
1-866-380-9828

.
Receive up to a $500 rebate

Switch your payment processing to Wells Fargo and receive a rebate of up to $500
EMV chip card technology

Most EMV chip card enabled terminals can also accept mobile payments, such as Apple Pay® and Android PayTM