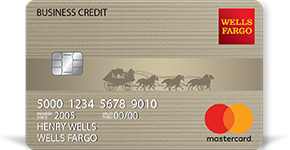 Cash Back option: Earn 1.5% cash back on qualifying purchases
Reward Points option: Earn 1 point on every $1 spent and receive 1,000 bonus points every billing cycle when you spend at least $1,000 on qualifying purchases
$500 to $25,000 credit line
Zero Liability protection
No annual fee
New Business Secured Credit Card applications are not accepted in Wells Fargo Branches.
Great For
Jump starting your business
Establishing or rebuilding business credit with Wells Fargo
Businesses with little to no business credit history
Businesses with past credit challenges
Other Features
No foreign transaction fee
Up to 10 employee cards
Spending reports available online
What You Will Need to Apply
A Wells Fargo business checking or savings account must be open prior to applying for the Wells Fargo Business Secured Card. Upon approval, your funds will be transferred from the deposit account to fund the credit line.
Eligible business checking accounts
Existing and new customers
Additional Navigate Business Checking®
Analyzed Business Checking
Initiate Business Checking®
Navigate Business Checking®
Optimize Business Checking®
Eligible business savings accounts
Existing and new customers
Business Platinum Savings
Business Market Rate Savings
How it Works
$500 to $25,000 credit line based on the amount of funds deposited by you as security in a collateral account.
Use your card for everyday business expenses, such as office supplies and online payments.
As with any credit card, you'll need to make monthly payments.
Fees and Rates
Fees
No annual fee.
No foreign transaction fees.
Cash advance or balance transfer fees may apply – see your customer agreement for details upon approval.
Interest rates
Prime + 11.90% on purchases
Prime + 20.74% on cash advances
Grace period of up to 25 days on purchases
Build Business Credit History with Wells Fargo
Things you need to know about building business credit with Wells Fargo:
Wells Fargo reports your payment and usage behavior to the Small Business Financial Exchange.
Payment and usage activity of the Wells Fargo Business Secured card is not reported to the consumer credit bureaus, therefore it will not help build or rebuild personal credit history.
Make monthly payments on time, every time. Paying late or missing a payment can hurt your business credit.
Pay more than the minimum each month if you can. When you pay less than the balance, your balance accrues interest, which must be paid along with the principal balance.
Keep your balance low, but use your card and pay on time in order to help build business credit.

Stay within your credit limit.
Only charge what you can afford to pay back.
Learn How to Upgrade to Unsecured Credit
We'll periodically review your account and recent credit history for an opportunity to upgrade to an unsecured business credit card. You may become eligible with responsible use over time:
Whether and when you upgrade to an unsecured business credit card depends on a number of factors, including how you manage your Business Secured Credit Card account, other accounts, and other factors such as FICO® Credit Score, payment history and ratio of credit card usage to credit limit.
There is no preset time frame for when you may get an upgrade into an unsecured business credit card. The upgrade is not offered automatically or guaranteed, regardless of how long the account has been open.
The Bank may hold collateral for up to 30 days following account closure in order to cover transactions that may be posted to the credit card account after it is closed.
Business Rewards
Choose between Cash Back or Rewards Points
No annual rewards program fee.,
No required spending categories or caps.
Cash Back
Earn 1.5% cash back on qualifying purchases.
Receive your cash back automatically as a credit to your account or to your eligible checking or savings account each quarter (March, June, September and December).
Reward Points
Earn 1 point for every $1 spent on qualifying purchases.
Get 1,000 bonus points when your company spends $1,000 or more in any monthly billing period.
Redeem points for gift cards, merchandise, airline tickets and more.
Get a 10% points credit when you redeem points online.
View all rewards
Protection and Additional Features
Take advantage of:
Keep your business protected:
Zero Liability protection: You'll be fully reimbursed for unauthorized purchases that are made with your Business Secured Credit Card and reported promptly.
Alerts notify you about available credit and account activity.
Chip technology adds another layer of protection against fraud.
Fraud monitoring monitors your business accounts.