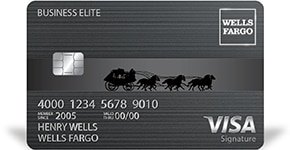 For businesses with annual sales over $1 million
New customer offer: Get a one-time $1,000 cash back bonus or 100,000 bonus points when you spend $25,000 in the first three months of account open date
Cash Back or Reward Points: Earn 1.5% cash back on every $1 spent or earn 1 point on every $1 spent and receive 5,000 bonus points when your company spend is $10,000 or more in any monthly billing period
Travel Incidental Fee Reimbursement: up to $100 per calendar year per company
Annual Fee: $0 first year, and then $125
Great For
Businesses that want to earn more valuable rewards
Businesses that want spending controls on cards
Businesses that need dedicated customer service
Other Features
No foreign transaction fee
Up to 200 employee cards
Bill payment options
Online Business reporting tool
$0 additional card fee
Business Rewards
No required spending categories or caps.
Choose to earn Cash Back or Rewards Points.
Get a $1,000 cash back bonus or 100,000 bonus points if you spend $25,000 in net purchases in the first three months of account open date.
Cash Back
Earn 1.5% cash back for every $1 spent on net purchases.
Receive your cash back automatically as a credit to your statement or to your eligible checking or savings account each quarter (March, June, September, and December).
Reward Points
Earn 1 point for every $1 spent on net purchases.
Receive 5,000 bonus points when your company spend reaches $10,000 in any monthly billing period.
Redeem points for gift cards, merchandise, airline tickets and more.
Get a 10% point credit when you redeem points online.
Earn extra bonus points or discounts from Earn More Mall® retailers.
Fees and Rates
Fees
$125 Annual fee (waived first year).
No additional card fee.
No foreign transaction fee.
Transaction fees for cash advances or balances transfer may apply – see your customer agreement for details.
Interest rates
Interest rate on purchases. Prime + 3.99%
Interest rate on cash advances. Prime + 20.74%
Grace period of up to 25 days on purchases.
Spending Controls
Assign spending controls to each card on the account, such as:
Office administration. Allow only office-related purchases such as printing, copying, and equipment rentals.
Travel. Ideal for employees who travel for business purposes.
Driving. Limit spending to driving-related expenses like gas, tolls, and parking.
Transaction Limits. Set specific dollar limits on purchases.
Business hours. Limit employee spending to business hours only.
Assign controls when you apply, or call the dedicated Business Elite Card customer service team at 1-800-231-5511.
Additional Features and Benefits
Features
Showcase your business with the Card Design Studio® service.
Company administrators. Owners can designate up to three administrators to manage accounts on behalf of the company.
Travel Features:

Travel Incidental Fee Reimbursement: up to $100 per calendar year per company.
Visa Perks. Enjoy business travel discounts and hotel benefits through the Visa Signature Luxury Hotel Collection.
Visa Signature Concierge service. Take advantage of complimentary 24/7 Concierge Service.
Cash management tools
Billing options
Choose between consolidated billing or individual cardholder billing.
Reporting
Business Elite Online Reporting® helps you easily and effectively manage your business expenses. This free service allows you to:
Track and manage cardholder spending, payments, and other transactions.
Analyze spending by category.
View spending by merchant.
Create custom reporting.
More about Business Elite Online Reporting
Watch our demo
More information

Download the enrollment form (PDF) for Business Elite Online Reporting. After you've completed and printed the form, please fax it to 1-877-531-8803.
Business Spending Report
is available through
Wells Fargo Business Online
®
. This report allows you to monitor spending patterns and set monthly goals. Plus, it automatically organizes your business card transactions into spending categories.
Protection
Purchase Protection
Zero Liability Protection. You'll be fully reimbursed for unauthorized purchases or ATM transactions that are made with your Business Elite Card and reported promptly.
Chip-enabled technology. All cards come with chip technology to provide an added layer of security.
Alerts. Get timely business credit card account alerts via email or text through Wells Fargo Business Online.
Fraud monitoring. We proactively monitor your business accounts to help prevent fraudulent use of your card.
Visa Purchase Security. Replaces or repairs eligible purchases, or reimburses you if items are lost, stolen, or accidentally damaged.
Visa Extended Warranty Protection. Extend manufacturer warranties, up to one additional year, on items you purchase with your Business Elite Card.
Travel Protection
Travel accident insurance. $250,000 per card.
Trip cancellation/Trip interruption including weather. Up to $2,500 per ticket.
Trip delay reimbursement. Up to $300 per ticket.
Lost luggage coverage. Up to $3,000 per trip.
Travel and emergency assistance services. A variety of emergency services available while traveling.
Auto rental insurance. Coverage for collision and theft.
To apply, call us at
1-844-807-5060