We can help you get back on the road toward your goals
When you work with Wells Fargo, we listen to you and understand your financial goals and needs. See how our auto refinancing options have helped customers like you.
George is switching to Wells Fargo…and got a great auto loan.
"I recently decided to refinance my car loan with Wells Fargo. I filled out the forms and got a call back a few days later. Randall answered all of my questions, and was refreshingly direct and transparent. Because of his excellent customer service, I have a great auto loan and I'm switching all of my banking (checking, savings, mortgages etc.) to Wells Fargo."

-George P.
Kristin refinanced her car with ease. 
"I've been a Wells Fargo customer for a long time and just refinanced my auto loan. Chelsea, the Wells Fargo representative I worked with, saved me a boatload of money. Dealing with finances has always been a little scary for me, but she was so friendly and really took the time to explain everything to me."
-Kristin D.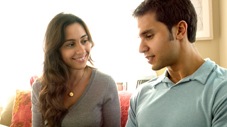 Victor needed financial guidance.  
"I never thought I'd find a way to resolve the financial mess that I got myself into. Wells Fargo not only improved my financial situation, but also gained a loyal customer. They reestablished my trust that there are still people in the banking industry that take pride in helping their customers."
- Victor E.
Blake had been told she couldn't refinance, until she asked us.
"I didn't think I could refinance my Volvo because another bank told me for years that they couldn't do anything to help me. We started talking at 10 a.m., and by 2 p.m. I was signing documents. The help and assistance I received on the refinance of my two vehicles were amazing." 
-Blake C.

Leslie didn't want the stress of refinancing.
"Money and credit issues typically cause me stress. Then, I received a letter in the mail stating I was pre-approved to refinance my auto loan. Something made me apply.  I was treated with such respect and consideration. I ended up with a new car, new account, and rental insurance. You started it all with your quick response and attention to detail. Thank you so much. You have a new Wells Fargo fan for life." 


-Leslie G.
Jessica was concerned she was not savvy enough to refinance.
"I am a senior citizen and have a very hard time with new technology; especially when it comes to complicated matters like refinancing a car. It is so good to know that there are real people at Wells Fargo, like Bill, that understand what I'm going through and are willing to work with me to make a stressful situation into a pleasant one.  Thank you for everything!" 
-Jessica H.