Find out how Wells Fargo can help get you on the road to success
When you work with Wells Fargo, we listen and understand your financial goals and needs. See how cars have played vital roles in our employees' lives and how our knowledge, passion, and experience can be there for you when you're ready to purchase a vehicle.
The one that got away
"My brand new Volvo…well, at least it was mine for a little while. While I was relishing its new car smell, smooth handling, and good looks, my wife was having some difficulty maneuvering our enormously clumsy conversion van that was certainly not optimal for quick turns or tricky driving situations. Luckily the only casualties were mailboxes and my honeymoon phase with my beautiful new wheels. Let's just say I ended up manning the conversion van every day while my wife became the proud new driver of the Volvo. Safety first…(sigh)."
Bob, Product Management, Charlotte, NC
When he's not reveling in the good weather on a weekend drive, Bob helps you better understand the personal financial benefits of accessing auto finance options through Wells Fargo rather than a third party.
Another man's treasure
"Ah, the 'Flaming Log.' It was a 1977 Ford Pinto Wagon in the most attractive color you could ask for — brown. And then there was my 1981 Fiat Brava four-door, enhanced with temperamental brakes, custom rust, and a hole in the floorboard. But it was my 1982 Triumph TR5 that takes the cake. It might have been total junk, but it was a convertible and I was in California, so what else do you need? While I've come a long way since then with my current 2008 Audi Q7, it's those kinds of stories that make you look back and appreciate the unparalleled joys of owning an automobile."
Rich, Marketing, St. Louis Park, MN
When he's not downhill and cross-country skiing, Rich is constantly crafting ways to make sure your customer experience in Wells Fargo bank locations is engaging and relevant to your auto financing needs.
Taking the scenic route
"In college I drove a 'Batmobile' — or at least that's what my friends jokingly liked to call my black 1960 Volkswagen Bug. And while I've come a long way from those days, I'm still reaching for my dream ride — a Mercedes CLS 550. But, acquiring this dream car was happily delayed when I started my dream family. And, truth be told, I wouldn't trade our drives up the Pacific Coast Highway for any luxury vehicle. Okay, maybe a Tumbler from 'The Dark Knight'…" 
Michael, Loan Administration, Las Vegas, NV
When Michael's not adventuring with his family, he's updating and implementing strategies that train Wells Fargo Auto staff to help customers make well-informed auto finance decisions.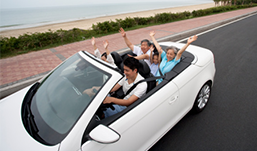 Shifting gears
"I'll never forget my days of off-roading and hauling WaveRunners in my 1998 Jeep Wrangler Sport with its oversized tires and a false top. But these days, my focus is on my family, so it's essential that my car focus on my family, too. Our Acura TL takes us on road trips through mountains, national parks, and beaches. We sing songs, tell jokes, and make up games — and I wouldn't trade this quality time for anything."
Josh, Call Center Sales, Minneapolis, MN
When he's not spending quality time with his family and their dog, Josh is making sure your auto financing questions are resolved efficiently and easily whenever you speak to a Call Center specialist.
The minivan that could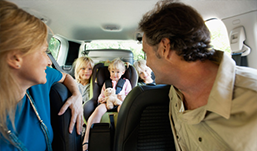 "I never thought I would be a 'minivan mom,' but here I am shouting it loud and proud. Some years back, my husband, myself, and our three kids were all going in different directions at different times. Without our trusty minivan, I couldn't even imagine how we'd get everyone to work, school, dance, choir, band, soccer, basketball and baseball on time. And when we needed to unwind from our jam-packed schedules, it gave us the perfect amount of space to stretch out for a nice summer day trip to the lake."
Sharon, Technology, Des Moines, IA
Even though she's busy being a mother of three, Sharon found it easier than ever to apply for an auto loan through Wells Fargo.com using her desktop or mobile device.
Leveling up
"One day, I'll be behind the wheel of a Mercedes S550 or Audi R8. I consider myself a saver, and each new car I purchase is a step up from the last. And once I reach the next level, I plan on staying there for at least ten years, trying my best to take care of my hard-earned investment. My current supercharged Audi A6 isn't just a testament to reaching my goal, it also makes my everyday travel an adventure."
Mark, Credit Portfolios, Winston-Salem, NC
Mark understands the value of taking care of an investment, which is why he ensures that your auto investment is easier for you to manage with minimal risk through his underwriting direction.
A green dream
"Now, I'm not too picky about my cars, but the one thing I ask is that they are environmentally friendly. It's my dream to one day be the proud owner of a brand new Tesla — the ultimate electric car. My husband and I love to take long road trips to Tahoe, playing music and soaking in the scenery, and I couldn't imagine a better way to hit the highway than in a Tesla, knowing that we aren't polluting the beautiful nature around us!"
Garima, Analytics, San Francisco, CA
When she's not spending time with her kids and husband, Garima is finding ways to provide you with the right loan for your auto financing needs.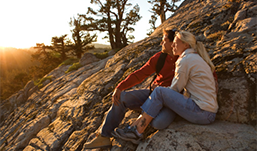 Contact an Auto Loan Specialist today at 1-866-452-3413