For more than 160 years, we have understood the importance of supporting diversity in the workplace and serving a diverse community.
Serving our customers
We have a tradition of providing courteous service and helping people reach their goals for financial success.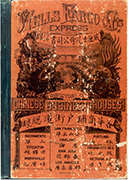 History of inclusion
From its earliest days, Wells Fargo became a favored financial services company of Chinese immigrants, serving Chinese customers in many cities. Between 1871 and 1882, Wells Fargo published several bilingual publications to facilitate commerce between Chinese-language customers and businesses.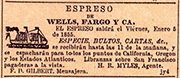 Speaking to customers in their own language
When Wells Fargo opened during the gold rush in California in 1852, we recognized the need to offer banking and express services in multiple languages. This commitment to speaking to customers in their own language continued throughout the rest of the century, and continues today.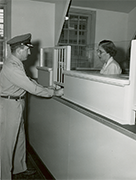 Serving the military
In the 1850s, Wells Fargo delivered gold coins to pay soldiers stationed in frontier forts. In 1917, Wells Fargo money orders helped troops send money home to loved ones. Today, service members do their banking at convenient banking facilities located on military bases or remotely through Wells Fargo's Worldwide Military Banking.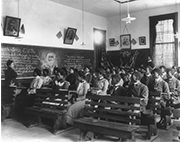 Delivering when it matters
In 1901, 16-year old Garrie Buckner left Colorado Springs, Colorado to attend school at Tuskegee Institute, the acclaimed African American school with Booker T. Washington as its principal. Garrie's mother depended on Wells Fargo to safely deliver packages to him at school. (Image courtesy of the Library of Congress)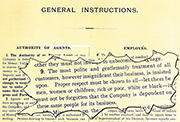 Valuing all of our customers
Wells Fargo's practice of putting respect at the center of customer interactions became policy in 1888, when it published its annual instructions to agents.  "Proper respect must be shown to all. Let them be men, women, children, rich or poor, white or black."  Valuing all of our customers remains a strong part of our company culture today.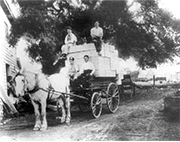 Supporting new industries
Sadakusu Enomoto and his brother Eikichi purchased five acres of land in Redwood City, California, and started raising chrysanthemums for market. In 1914, they made the first out-of-state shipment of chrysanthemums — a  new industry for California. The Enomoto brothers depended on Wells Fargo to ship their flowers safely to new markets.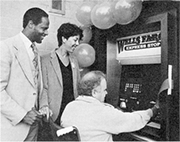 Prioritizing accessibility
Wells Fargo introduced its popular Express Stop® ATMs in 1978. To ensure that customers of all abilities had access, Wells Fargo created ATMs with wheelchair accessibility and talking features for those with vision impairments.
Building better teams
From our earliest days, we've supported diversity in the workplace by hiring team members with diverse experiences and abilities to better serve customers.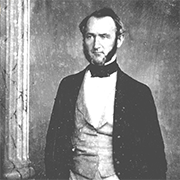 Henry Wells
Henry Wells was a successful business leader and founder of Wells Fargo. Wells also had a severe speech impediment, and his personal experiences made him sympathetic to others with speech impediments. He donated liberally to institutions that addressed speech issues. Despite his difficulties, many observed that Wells had a great sense of humor and possessed a commanding presence that inspired others.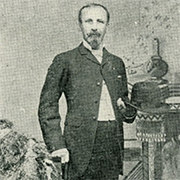 José Estudillo
José Estudillo, a respected merchant and Wells Fargo's agent in Old Town San Diego, served as county treasurer, then was elected to statewide office as California State Treasurer from 1875-1880.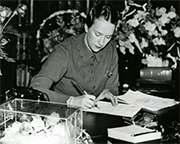 Mary G. Roebling
In 1937, Mary G. Roebling became president of Trenton Trust Company, a part of Wells Fargo today. Roebling was the first woman president of a major commercial bank in the United States. She led Trenton Trust for fifty years, and introduced innovative marketing and customer service initiatives. (Image courtesy of Rutgers University Libraries, Special Collections and University Archives.)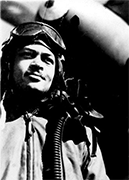 George S. Roberts
In 1941, George S. Roberts joined the first class of African-American pilots trained at Tuskegee Army Air Field. He later commanded a fighter squadron and flew many missions over Europe in World War II. Colonel Roberts retired from the Air Force in 1968, then embarked upon a second career as a banker with Wells Fargo in Sacramento, California.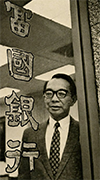 Lyman Jang
In 1971, bank manager Lyman Jang had a realization. Wells Fargo's San Francisco Chinatown location  was daily providing service in-language for customers, but there was no translation for the bank's phonetic name in Chinese characters. Jang chose new signage for the bank using the characters that represent rich, country, money, house. Today, the bank's business continues to be represented by these characters.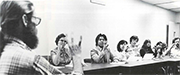 Paul Isaacs
Paul Isaacs, a team member in Computer Services in 1979, had a hearing impairment. Isaacs communicated mostly through American sign language (AMESLAN), and his willingness to share his experience led to the first AMESLAN class for Wells Fargo team members.
Being part of communities
We proudly join with our communities to celebrate successes and a shared heritage.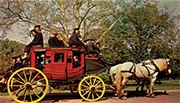 Founding Wells College for Women
Wells Fargo Founder Henry Wells enjoyed great success in business; but his proudest achievement was founding Wells College for Women in Aurora, New York in 1868. Wells wrote that he hoped "to promote a higher standard of moral and intellectual culture that has yet been obtained by the ordinary village and town institutions."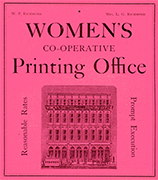 Helping women business owners
Wells Fargo Bank helped women business owners get started in 1869, co-signing incorporation documents for the Women's Co-operative Printing Union. The Co-operative then got Wells Fargo business, printing checks for the bank.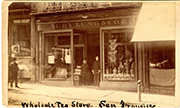 Standing against discrimination
The Chinese Exclusion Act of 1882 codified hostility. Wells Fargo agents stood by their Chinese customers and attested to their character in hearings to approve their status. Testifying was a small act in the face of widespread discrimination, but helped customers and the communities they lived in.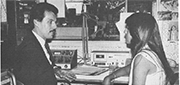 Building financial literacy programs
In 1981, Wells Fargo employees joined with a local radio station in California to produce a Spanish language series on banking and financial literacy. The talk show format revolved around each banker's personal experiences, and offered practical advice. Today, Wells Fargo continues to provide financial literacy programs in Spanish through local workshops and its El future en tus manos® (Hands on Banking®) website.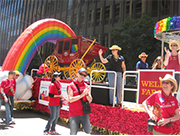 Supporting the LGBT community
On August 18, 1991, two Wells Fargo team members met at Golden Gate Park to organize a Wells Fargo contingent for the annual Lesbian & Gay Freedom Day event in San Francisco. The meeting became Wells Fargo's first LGBT team member event. Over 100 people walked with the Wells Fargo stagecoach in the 1992 parade.
More history
Access archives and learn more about our heritage.
Related information