Senior Executive Vice President
Chief Executive Officer of Consumer and Small Business Banking
Wells Fargo & Company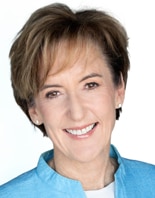 Mary Mack leads Consumer and Small Business Banking (CSBB) for Wells Fargo and oversees more than 67,000 employees. She serves on the Wells Fargo Operating Committee.
CSBB includes Branch Banking, Small Business Banking, Chief Administrative Office, Chief Marketing Office, Consumer Data and Engagement Platforms, Control Management, Operations, Strategy and Innovation, Deposit Products, Diverse Customer Segments, and Affluent.  CSBB provides financial services to 22 million retail bank households and three million small business customers through approximately 4,900 retail branches, 17 customer service centers, and approximately 12,000 ATMs in 36 states and the District of Columbia.
Mary began her career with Wells Fargo in 1984 and has a broad mix of brokerage/advisory, banking and finance experience. Prior to her current role, Mary led Consumer Banking, which included retail bank branches along with Wells Fargo Home Lending and Wells Fargo Auto. She also served as president and head of Wells Fargo Advisors, LLC, one of the nation's largest full-service retail brokerage organizations. Over her 37+ year tenure with Wells Fargo, Mary also held a variety of leadership positions in brokerage, retail banking, commercial banking and corporate and investment banking.
A graduate of Davidson College in North Carolina with a bachelor's degree in International Political Economy, Mary also previously served on the college's board of trustees. She is a board member of Habitat for Humanity International and a member of the Charlotte Executive Leadership Council. She has also served as a member of United Way Worldwide's Board of Trustees and on a number of boards serving health and human services, education and community needs in the various cities in which she has lived and worked.
Mary has been named by Fortune magazine as one of the "50 Most Powerful Women in Business" for five consecutive years starting in 2016. In 2020, Mary and eight other women leaders at Wells Fargo received a first-of-its-kind group honor and were placed on American Banker magazine's list of the "Most Powerful Women to Watch." Previously, Mary ranked #1 in their 2017 and 2018 "25 Women to Watch" listing and was named among the "25 Most Powerful Women in Finance" for 2014 and 2015. She also ranked among the top 20 "Women to Watch" in financial services by Investment News in 2015.