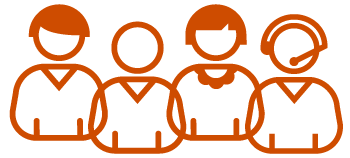 We offer excellent training and mentoring in a wide range of job functions, including marketing, human resources, customer service, systems engineering, and more. Many Wells Fargo team members started in one of the roles listed below. Our commitment to developing our team members ensures you'll have ongoing opportunities throughout your career.
Teller
If you enjoy a fast-paced work environment and consider yourself upbeat and a good listener, working as a teller may be an ideal place to start your career. Our tellers:
Provide excellent customer service
Play an essential role in finding the right solutions for customers
Receive frequent recognition and rewards for top performance
Work closely as a key member of a team
Excel at multitasking
A day in the life of a teller
Tellers work in a challenging, fast-paced environment. There is no typical day — that's part of the challenge, and the fun. On any given day, your work may include:
Greeting customers and making them feel welcome, as well as catching up with those you see regularly
Processing transactions for customers to help them manage their finances
Finding ways to make financial services more convenient for customers, like helping them sign up for online banking services
Recommending additional products and services to meet customers' needs
Referring customers to your Wells Fargo partners
Each day your sales, service, and product knowledge grows — ultimately preparing you for the next stage of your career with Wells Fargo.
And rarely a day goes by without recognition from your manager, peers, and business partners. Your team might enjoy a pizza lunch for meeting their sales and service goals or you might receive balloons to celebrate a personal success. You'll hear "thank you" and "great job" a lot, giving you a strong sense of accomplishment. You will know you're part of a winning team and a winning company.
Personal Banker
If you enjoy building relationships with your customers and finding the right solutions for their financial needs, a personal banker position could be a great fit. Personal bankers:
Provide expert advice and service to customers
Find satisfaction in offering the right financial solutions to help customers with large expenses, such as saving for college, buying a home, and planning for retirement
Take pride in exceeding their clear-cut goals
Receive frequent recognition and rewards for top performance 
A day in the life of a personal banker
As a Wells Fargo personal banker, you devote as much of your day as possible to having in-depth conversations, in person and by phone, with your customers. You meet with customers at our stores and at their places of business — so they can manage their financial needs at their convenience. Your daily projects will include:
Building and managing lifelong customer relationships
Understanding customers' financial needs and showing them how to get the greatest possible value from our products and services
Analyzing current customer relationships and proactively contacting customers with recommendations to help them achieve financial success
Developing and maintaining relationships with Wells Fargo partners to maximize sales opportunities
As you build your customer relationships and product knowledge, you are working towards your personal goals within Wells Fargo. And your manager regularly takes time to celebrate your hard work and success by recognizing and rewarding your contributions and providing value-added coaching. Teamwork and relationship building is a winning combination for a successful personal banker at Wells Fargo.
Phone Banker
If you're a versatile team player who enjoys responding to customers' concerns and helping them define their financial goals, you'd likely fit in well as a phone banker. Our phone bankers:
Resolve customer concerns over the phone
Offer products that meet customers' ongoing financial needs
Care deeply about providing exceptional customer service
Receive frequent recognition and rewards for exceeding their sales goals
Enjoy making a positive first impression to all customers
Must think critically, solve problems, and develop customer relationships
A day in the life of a phone banker
As a phone banker, you have the opportunity to interact with customers and expand their banking relationship with us. This fast-paced and challenging role allows you to utilize your sales and communication abilities while working in a fun environment that offers excellent opportunities for advancement. This role begins with an excellent paid training program to get you up-to-speed on our banking products, services, systems, and procedures. On any given day, you can expect to:
Use your banking product knowledge to expand customer relationships through consultative sales
Handle incoming calls from Wells Fargo's customers
Promote Wells Fargo products and services to better meet the banking needs of our customers
Solve complex problems with multiple software programs
Be a part of a team that thrives in meeting goals and ensuring top-notch customer service
As a phone banker, you'll gain valuable skills that will launch a successful career at Wells Fargo. In addition, the management team is committed to providing you with development opportunities, career coaching, and cheers as you reach your goals.
Mortgage Consultant
This position is a good fit for you if you enjoy building strong and long-lasting relationships with your customers to help them reach their personal and financial goals through homeownership. You'll thrive as a home mortgage consultant if you:
Find fulfillment in learning about the newest and most innovative mortgage solutions
Possess the resilience needed to thrive in the ever-changing environment of the mortgage industry
Have the drive to meet or exceed your sales goals while providing extraordinary service to your customers
Enjoy competition and want frequent recognition and rewards for top performance
Take pride in actively building long-term relationships with your customers
Enjoy being part of a successful team