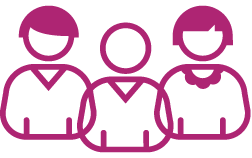 Teamwork is a key component when working in the corporate office. We value creativity and innovation and will do everything we can to foster an environment where you can grow your career. Our commitment to developing our team members ensures you'll have ongoing opportunities throughout your career.
Security Analyst
If you have a strong background in security application technology, you may find opportunities in this area. You'll thrive as a security analyst if you:
Enjoy staying on top of the latest security technologies
Have a passion for protecting customer data from cyber threats
Feel excited about the potential application of biometrics
Work well with both technical and non-technical business partners 
A day in the life of an Information Security Analyst 4 or 5
As an Information Security Analyst 4 or 5, you will help millions of Wells Fargo customers feel confident and secure doing business with us. Your daily projects may include:
Participating in the evaluation, development, and implementation of security standards, procedures, and guidelines for multiple platforms and diverse systems environments
Designing network vulnerability scans and providing remediation alternatives
Developing specifications for complex network security
Identifying emerging vulnerabilities and evaluating associated risks and threats
A career spent exploring and developing security solutions is not only interesting, it positively impacts a large audience (our valuable Wells Fargo team and customers).
Project Manager
If the idea of participating in highly visible projects appeals to you, Project Management may be the role you are looking for. You'll enjoy this role if you:
Have excellent communication, organizational, and interpersonal skills
Find satisfaction in meeting deadlines and delivering a project or product on time
Excel at managing multiple projects at any given time
Work well in a team and matrix environment
A day in the life of a Project Manager
You will work in a challenging, fast-paced environment where you will use your leadership, time management, planning, and communication skills to manage multiple projects. Your day-to-day responsibilities may include:
Leading projects and managing cross-departmental activities
Prioritizing project initiatives and working with users on scope and delivery
Conducting business and systems analysis
Creating and delivering presentations on project goals and plans
Utilizing the latest in PMO processes and technologies
You'll find opportunities for recognition, personal development, and a means to accomplish your career goals as part of a winning team.
Systems Engineer
Does the idea of cutting-edge technology and providing solid business solutions through technology appeal to you? If so, a position as an Applications or Systems Engineer may be the role you are looking for. Those who find satisfaction in this role:
Thrive in a fast changing environment
Want to support a broad range of world-class applications
Excel at problem-solving
Function well in a high-performing team
Enjoy building relationships with end users
A day in the life of an Applications/Systems Engineer
Thriving in a fast-paced, ever-changing environment and dealing with cutting-edge technology is a way of life for our applications and systems engineers. You may support the needs of a wide range of both internal and external business partners. Projects may include:
Performing analysis and making recommendations affecting critical technical initiatives
Designing and developing tools and applications to facilitate workflow and automate processes
Collaborating with other engineers to enhance processes, code reviews, and internal infrastructure
Overseeing the maintenance, debugging, and adding of new features to a suite of existing applications
Each day you will greatly impact the way Wells Fargo does business in real-time and critical scenarios. If you want an opportunity to design, build, and support systems and tools to streamline business processes and enhance productivity, this is the role for you.